Dette event har allerede funnet sted.
NPA Annual Event 2022: Young in the NPA – Bodø
9. november 2022
@
09:00
–
17:00
YOUTH IN THE NPA, make your voice heard!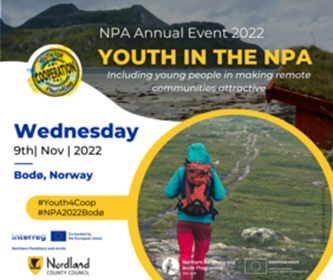 YOUTH IN THE NPA, make your voice heard!
YOUTH IN THE NPA, including young people in making remote communities attractive
2022 is the European Year of Youth, shining a light on the importance of European youth to build a better future – greener, more inclusive, and digital.
With plenty of opportunities to learn, share your vision, meet people, and engage in activities all over Europe, the European Year of Youth is the moment to move forward with confidence and hope in a post-pandemic perspective.
At the Interreg NPA we embrace this EU wide initiative with an annual event focused on young people's ideas and visions for a more prosperous and attractive Northern Periphery and Arctic.
The YOUTH IN THE NPA conference will be an opportunity to:
get to know the Interreg NPA and its funding opportunities;
listen what life is like as a young person in the Northern periphery, and what are their wishes for the future;
discuss what opportunities the Green Transition has brought to the Arctic and near-Arctic regions;
design a more digital, greener, and inclusive NPA region following the steps of the Utopian workshop;
explore the benefits of inclusive decisions-making processes when municipalities cooperate with young people.
Travelling across the NPA area may be challenging and lengthy. For those who cannot attend the conference in person, the Nordland County Council will broadcast parts of the event LIVE. The link to watch the event and more information will be announced closer to the date.
The Interreg NPA programme is delighted to invite all, young and not-so-young, to join this conference and actively contribute to making the NPA an even better place to live!
Registration is OPEN until 21th October 2022. Find the registration form here.